Practices That Make Cimarron Green
Lot Design, Preparation, and Development
We follow practices that help reduce the environmental impact, such as site design, and constructing onsite storm water retention/infiltration features. As you tour our neighborhoods, you will notice the respect for the natural features Cimarron provides.

Solar Energy Systems
Every Cimarron Home has the option to select a solar photovoltaic system to offset a portion of the home's electricity bill and reducing the total cost of ownership. Multiple system sizes are available and designed to fit every budget.

Resource Efficiency
We create resource efficient designs and use resource efficient materials. We spend quality time researching the most efficient materials and their applications.

Energy Efficiency
All of Cimarron's homes exceed ENERGY STAR standards. They are crafted with advanced framing techniques, tightly sealed ducts, air returns and attic insulation. We install Low E energy efficient windows and Aprilaire air filters that treat all the air in your home every time it circulates. These filters also last 1 to 2 years so you don't have to change out your filter every month. We also use advanced techniques for sealing holes and cracks in the home's envelope to eliminate energy waste.

Water Efficiency
Cimarron uses Moen water conserving products including faucets that provide 32% water savings, low flow showerheads that provide 40% water savings, and high efficiency toilets that provide 20% water savings.

Indoor Environmental Quality
In addition to any above-mentioned applications, we use low VOC (volatile organic compound) paint and green labeled carpet certified by the Carpet and Rug Institute.

Operation, Maintenance, and Homeowner Education
All of our exterior materials are selected for their long-term benefits of stability, quality, efficiency, and low maintenance to the homeowner. Cimarron provides each homeowner with a manual that explains proper operations and maintenance procedures that assures that the green home that was so carefully built can also be operated in an environmentally responsible manner.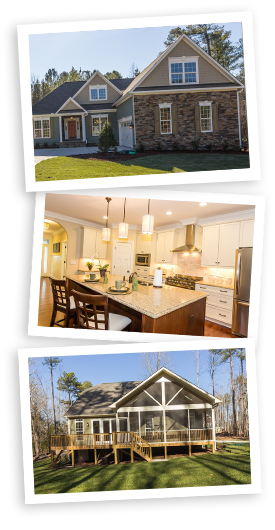 Features That Make Cimarron Green
Pressure Balancing True Returns: Properly cycles air in the home to allow for more efficiency and comfort.

Advanced Framing Techniques:
(tight construction/tight thermal envelope.) Reduces the amount of building materials while maintaining the structural integrity of the home, and also allows for more insulation coverage.
MOEN 3rd party certified Water Conserving Products:
We install low flow faucets; a 32% water savings, shower heads; a 40% water savings, and toilets; a 20% water savings.
Aprilaire Air Filter:
This high efficiency air filter replaces that 1-inch thick flimsy air filter that you have to replace every month. It permanently traps allergy causing pollen-sized particles (5 microns and larger) at the rate of 97% and permanently traps mold and spore particles at a rate of 70%.
Programmable Thermostats:
They perform more efficiently for you. Just set it and leave it.
Tightly Sealed HVAC Duct Work:
You pay to heat and cool that air, why let it escape? Our properly installed energy efficient heating and cooling systems use less energy, which saves you money.
3rd Party Certified:
It's easy to claim our homes are green built and energy efficient, but we like to back it up with a third party inspection verifying the energy performance of our homes. You get both ENERGY STAR and NGBS Green Certification in your new Cimarron home!!
I have had the privilege of working with Cimarron Homes for many years. It is a family owned and run local company. The people that work there are the best! They care about their customers and care about building a quality home for them. It is a joy to work with them because my customers are so happy with their new homes!