Greenfordable is Cimarron's commitment to building HEALTHY, affordable green homes in all price ranges, from starter homes to dream homes.
To make our homes green, we follow practices that help reduce environmental impact, including site design and quality storm water management. Every Cimarron home exceeds ENERGY STAR® standards by using advanced framing techniques which allow for greater insulation coverage. We also install Low E energy efficient windows, water conserving showerheads, faucets and toilets, and green labeled carpet tested by the Carpet and Rug Institute for improved air quality. After construction, we provide each homeowner with a manual explaining proper operations and maintenance procedures to ensure that their green home, which was so carefully built, can also be operated in an environmentally responsible manner.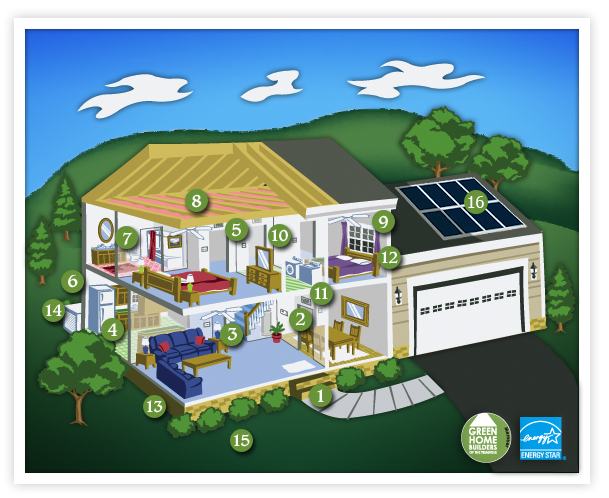 1. Blower Door Test by 3rd Party Inspector
2. Programmable Thermostats
3. Energy Efficient Ceiling Fans
4. ENERGY STAR Appliances
5. Insulated Attic Blanket
6. Fresh Air Ventilation
7. Low Flow Faucets, Shower heads, and Toilets
8. Sealed and Insulated HVAC Ducts
9. Advanced Framing Techniques
10. Tight Construction with Sealed Thermal Envelope
11. Pressure Balancing Transfer Grills
12. Vinyl Low E Windows
13. Sealed Crawl Space
14. HVAC System Test Before and After Construction
15. 3rd Party Green Certified
16. Optional Solar PV System

Practices That Make Cimarron Green Cimarron Green Home Features
Why Buy a Green Home?
Green Building is a term that describes environmentally friendly construction. It includes many different aspects of the home, from planting shade trees to save energy to installing water efficient plumbing. But, while green building is driven by a desire to reduce the environmental impact of your home, it's also good for you.
Practices That Make Cimarron Green Cimarron Green Home Features
Cimarron homes are roughly 20% more energy efficient than modern-day non-certified new homes…. Cimarron building practices produce quite accomplished results.